MT GOP Re-Elects Don "K" as Chairman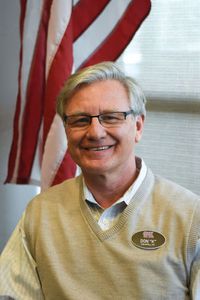 Don "K" Kaltschmidt, an automobile dealer and prominent Republican figure in the Flathead Valley, has been reelected to a third term as chair of the Montana GOP. The Montana Republican Party voted to retain Kaltschmidt at its Officers' Convention, while State Rep. Lola Sheldon-Galloway was also chosen for a third term as vice chair. Under Kaltschmidt's leadership, the MTGOP has achieved historic success, with Republicans now controlling 8 out of 9 statewide offices in Montana. The party's strong grassroots movement, exceptional team, and continued momentum are expected to advance conservative values in the upcoming 2024 election cycle.
Kaltschmidt, who owns the Don K dealership in Whitefish, assumed the position of state party chair in 2019, succeeding Debra Lamm. Prior to this role, he served as the finance chair for the Flathead County Republican Central Committee. While Kaltschmidt represents the entire state in his statewide position, his roots and political influence lie heavily within Flathead County, which is known as the reddest county in Montana. Its consistently Republican voting patterns and larger population make it a crucial county in Republican politics.
Having been involved in various Republican endeavors, Kaltschmidt brings extensive political experience to his leadership role. In 2016, he ran for the state senate but was defeated in Montana's Senate District 3 Republican Primary by Senator Keith Regier. Furthermore, Kaltschmidt served as a Montana delegate to the Republican National Convention in 2012. Drawing upon the party's winning track record and a sense of unity and enthusiasm among its members, Kaltschmidt believes the Montana Republican Party is well-positioned for future victories.
Looking ahead to the 2024 election cycle, a key goal for the Montana GOP is to replace Democratic U.S. Senator Jon Tester, the sole Democrat representing Montana in Washington, D.C. Tim Sheehy, the CEO and founder of Bridger Aerospace, is likely to be the Republican candidate challenging Tester for his seat. Kaltschmidt expresses confidence in the party's winning strategy and aims to make Montana a bright red state by electing Republicans up and down the ballot. Retiring Jon Tester from his Senate career remains a top priority for the Montana GOP.
By: Politics 406 Staff