Judge orders Hunter Biden to appear in paternity case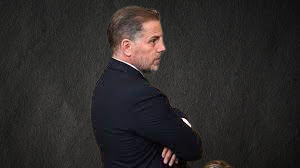 On Monday, Judge Holly Meyer of the Independence County Circuit ordered that Hunter Biden be present for all court proceedings relating to his paternity case in Arkansas, including the upcoming hearing on May 1st.
During a Zoom hearing on Monday, Judge Meyer voiced her frustration with the lawyers representing both Hunter Biden and Lunden Roberts.
"I want both of your clients at every hearing I conduct," Judge Meyer said. "I will no longer allow us to excuse clients"
After Brent Langdon, Hunter Biden's lawyer in the paternity case, brought up a laptop computer that Biden allegedly left at a repair shop, Judge Meyer made her remarks.
Judge Meyer set a hearing for May 1st at 9 a.m. at the Independence County courthouse in Batesville, which will be conducted in person.
Lunden Roberts has a daughter who is four years old now. The child, who was initially referred to as "Baby Doe," was born in August 2018, and a paternity lawsuit was filed in May 2019.
In a January 2020 order, Judge Meyer declared that a DNA test had shown, "with almost scientific certainty," that Hunter Biden is the father of the girl. The parties reached an agreement on temporary child support that same month, pending the resolution of the matter.
Hunter Biden and Lunden Roberts came to a settlement in March 2020 regarding their paternity and child-support lawsuit. However, last year, Biden's request to modify his child support payments led to the case being reopened.
In December, the lawyers representing Lunden Roberts filed a motion requesting a name change for the child, from her current last name to Biden. They argued that "the Biden name is now synonymous with being well educated, successful, financially acute, and politically powerful." In response, Hunter Biden's lawyer submitted a four-page rebuttal, demanding "strict proof" that such a name change is in the best interest of the child.
Judge Meyer has set a bench trial to take place on July 24-25 in Batesville.