Massachusetts US Attorney to resign over ethics probe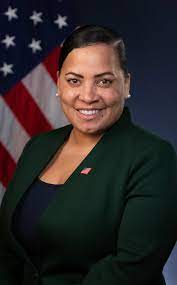 Massachusetts U.S. Attorney, Rachael Rollins, will step down after a Justice Department inspector general investigation into her involvement in a political fundraiser and other ethics-related matters. Although the report has not been released yet, Rollins' attorney confirmed that she will be sending a resignation letter to President Joe Biden by the end of business on Friday.
The resignation of a U.S. attorney due to ethical concerns is an incredibly rare occurrence, particularly during a time when the Justice Department, led by Attorney General Merrick Garland, is focused on restoring normalcy and promoting good governance after several tumultuous years.
Rachael Rollins' attorney acknowledged that she has been privileged to serve as a U.S. attorney and take pride in the accomplishments of her office. However, recognizing that her continued presence has become a distraction, Rollins has made the difficult decision to resign. Attorney Michael Bromwich, a former Justice Department inspector general, stated that Rollins intends to address any lingering questions once she has stepped down and the situation has calmed down.
Rollins, who faced significant controversy, was appointed as Massachusetts' leading federal law enforcer, necessitating Vice President Kamala Harris to cast tie-breaking votes twice to advance her nomination in the Senate. Republicans vehemently opposed her nomination, portraying her as a radical figure.
Prior to assuming her prominent position as U.S. attorney, Rollins served as the chief prosecutor for Suffolk County, encompassing Boston. During her tenure, she engaged in conflicts with Boston's largest police union and advocated for liberal criminal justice reforms, notably implementing a policy of non-prosecution for certain minor offenses.
In November, The Associated Press broke the news that the inspector general's office had initiated an investigation into Rollins regarding her attendance at a Democratic National Committee fundraiser held at a residence in Andover, Massachusetts. According to two individuals familiar with the investigation, who requested anonymity due to lacking authorization to disclose details of the probe, Rollins' participation in the event, which featured first lady Jill Biden, was the subject of scrutiny.