JORDAN KNUDSEN RUNNING FOR BIG HORN COUNTY ATTORNEY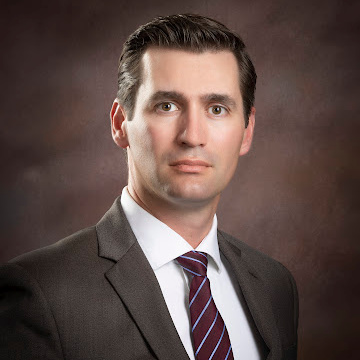 Hardin, MT – Jordan Knudsen, the current Hardin City Attorney, is running for Big Horn County Attorney.  A native of Culbertson, Montana, Knudsen has been a prosecutor for nearly nine years.  Knudsen's first job out of law school was as the Deputy County Attorney for Roosevelt County, where he prosecuted numerous drug and violent crimes.  In 2015, he married Hannah Scott of Pryor, Montana, whom he met in law school at the University of Montana, and they soon returned to Hannah's favorite place in Montana, Big Horn County.  Knudsen grew up on a family farm in northeast Montana that raised wheat, hay, sugar beets, and registered Angus cattle.  This agricultural upbringing has instilled a strong work ethic in Knudsen, and taught him real Montana values.
Jordan and Hannah, both attorneys, opened their own law office, Knudsen & Knudsen, PLLC, in Hardin in 2016.  Their law office has served residents of Big Horn County for over six years in all matters including mineral rights, water rights, real estate transactions, civil litigation and estate planning.  Shortly after opening the law firm in Hardin, the City of Hardin retained Jordan as the Hardin City Attorney, a role which he has held since.  Knudsen supports law enforcement, and is proud of his role in establishing the Hardin Police Department.  Knudsen believes that the additional law enforcement presence not only benefits the residents of Hardin, but that it also serves Big Horn County as whole, allowing the Big Horn County Sheriff's Office to spend more time in the county on patrol.  Knudsen believes in government transparency, and the public's right to participate in all levels of government.  Knudsen is licensed to practice in the State of Montana, in the Crow Tribal Court, and in the Northern Cheyenne Tribal Court.  When Knudsen is not in the courtroom, or the city council chambers serving the City of Hardin, he can be found in the saddle helping his wife's family on the ranch, or in the seat of a tractor putting up hay.
Press Release provided by Jordan Knudsen